Back to the detailed contents page
Map 2. Administrative counties and unitary authority areas
This map should be studied in conjunction with the keys and accompanying text underneath it.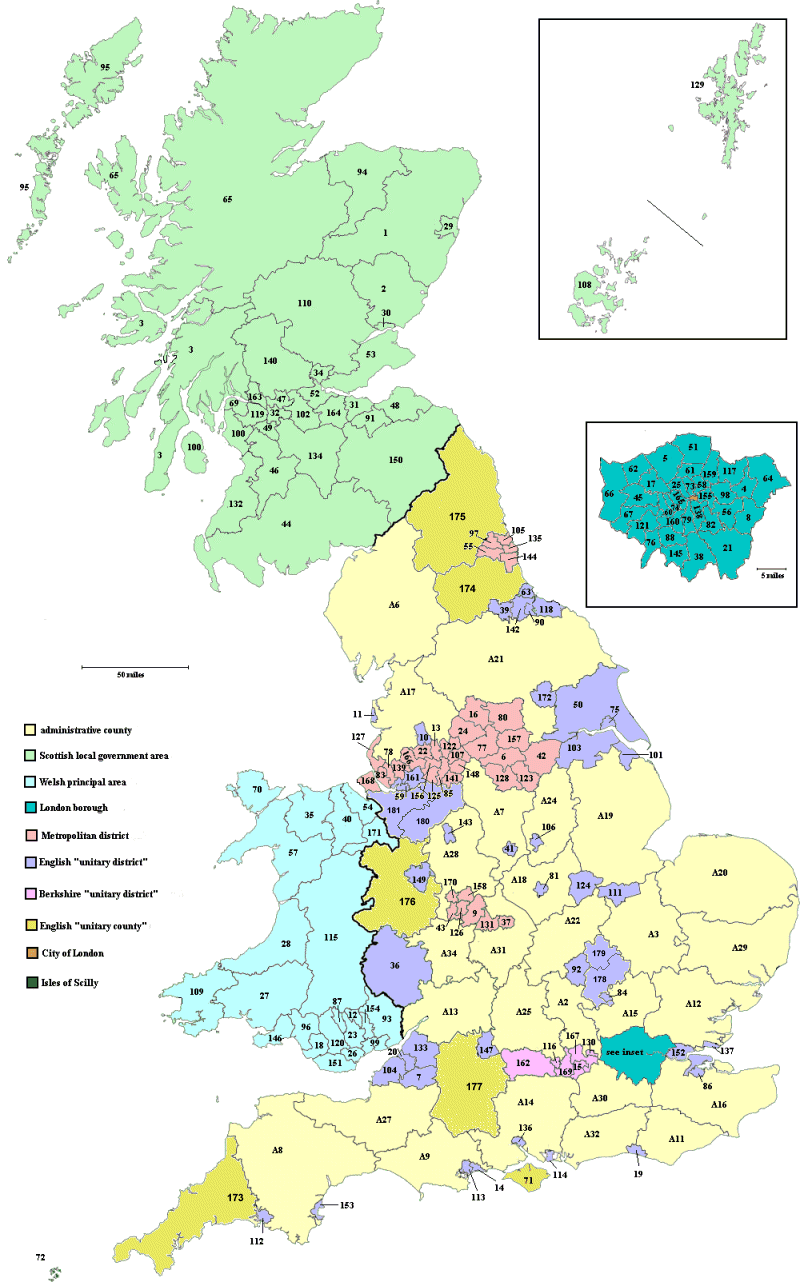 Administrative counties
Within the Gazetteer, the phrase "administrative county" means one of the "counties" of the Local Government Act 1972 (LGA 1972) within which local government provision is shared between a "county council" and several "district councils".

A2   Buckinghamshire            A19  Lincolnshire              
A3   Cambridgeshire             A20  Norfolk                          
A6   Cumbria                    A21  North Yorkshire           
A7   Derbyshire                 A22  Northamptonshire          
A8   Devon                      A24  Nottinghamshire           
A9   Dorset                     A25  Oxfordshire               
A11  East Sussex                A27  Somerset      
A12  Essex                      A28  Staffordshire         
A13  Gloucestershire            A29  Suffolk            
A14  Hampshire                  A30  Surrey      
A15  Hertfordshire              A31  Warwickshire        
A16  Kent                       A32  West Sussex           
A17  Lancashire                 A34  Worcestershire            
A18  Leicestershire

Unitary authority areas
Within local government legislation there are ten distinct types of local government area all of which are listed in the column labelled "Unitary Authority Area" within the Gazetteer of British Place Names. It is reasonable to use this term to describe all of these areas since a single local authority is responsble for all local government service provision within them. However, the map above and the key below denote each type separately. The following notes briefly explain the nature of each of these types of area (see the main body of the text for a more detailed explanation.
(1) Scottish local government area (SLGA) - as created by the Local Government etc. (Scotland) Act 1994.
(2) Welsh principal area (WPA) - as created by the LGA 1972 (as amended by the Local Government (Wales) Act 1994).
(3) London borough (LB) - as created by the London Government Act 1963.
(4) Metropolitan district (MD) - i.e. a district within one of the "metropolitan counties" created by the LGA 1972. The "metropolitan counties" no longer have councils.
(5) English "unitary district" (UD) - i.e. one of those LGA 1972 "counties" with only a single district and within which the sole extant council is that of the district.
(6) Berkshire "unitary district" (BUD) - i.e. a district within the LGA 1972 "county" of "Berkshire" (there being no extant "county council" for this "county").
(7) English "unitary county" (UC) - i.e. an LGA 1972 "county" within which the sole extant council is that of the "county".
(8) The City of London (CL)
(9) The Inns of Court (IC) - these are not shown on the map.
(10) The Isles of Scilly (IS) - i.e. the local government area of this name as created by the LGA 1972 and SI 1978/1844.
The type of each "unitary authority area" is denoted in brackets after its name in the following list.


1   Aberdeenshire (SLGA)                  87  Merthyr Tydfil (WPA) 
2   Angus (SLGA)                          88  Merton (LB)                                          
3   Argyll and Bute (SLGA)                89  Middle Temple (IC)                                  
4   Barking and Dagenham (LB)             90  Middlesbrough (UD)                                                                             
5   Barnet (LB)                           91  Midlothian (SLGA)                      
6   Barnsley (MD)                         92  Milton Keynes (UD)                   
7   Bath and North East Somerset (UD)     93  Monmouthshire (WPA)                   
8   Bexley (LB)                           94  Moray (SLGA)                            
9   Birmingham (MD)                       95  Na h-Eileanan an Iar (SLGA)             
10  Blackburn with Darwen (UD)            96  Neath Port Talbot (WPA)               
11  Blackpool (UD)                        97  Newcastle upon Tyne (MD)             
12  Blaenau Gwent (WPA)                   98  Newham (LB)                          
13  Bolton (MD)                           99  Newport(WPA)                           
14  Bournemouth (UD)                      100 North Ayrshire (SLGA)                  
15  Bracknell Forest (BUD)                101 North East Lincolnshire (UD)         
16  Bradford (MD)                         102 North Lanarkshire (SLGA)               
17  Brent (LB)                            103 North Lincolnshire (UD)              
18  Bridgend (WPA)                        104 North Somerset (UD)                  
19  Brighton and Hove (UD)                105 North Tyneside (MD)                  
20  Bristol (UD)                          106 Nottingham (UD)                      
21  Bromley (LB)                          107 Oldham (MD)                          
22  Bury (MD)                             108 Orkney Islands (SLGA)                   
23  Caerphilly (WPA)                      109 Pembrokeshire (WPA)                   
24  Calderdale (MD)                       110 Perth and Kinross (SLGA)               
25  Camden (LB)                           111 Peterborough (UD)                    
26  Cardiff (WPA)                         112 Plymouth (UD)                        
27  Carmarthenshire (WPA)                 113 Poole (UD)                           
28  Ceredigion (WPA)                      114 Portsmouth (UD)                      
29  City of Aberdeen (SLGA)               115 Powys (WPA)                           
30  City of Dundee (SLGA)                 116 Reading (BUD)                         
31  City of Edinburgh (SLGA)              117 Redbridge (LB)                       
32  City of Glasgow (SLGA)                118 Redcar and Cleveland (UD)            
33  City of London (CL)                   119 Renfrewshire (SLGA)                    
34  Clackmannanshire (SLGA)               120 Rhondda, Cynon, Taff (WPA)            
35  Conwy (WPA)                           121 Richmond Upon Thames (LB)             
36  County of Herefordshire (UD)          122 Rochdale (MD)                        
37  Coventry (MD)                         123 Rotherham (MD)                       
38  Croydon (LB)                          124 Rutland (UD)                         
39  Darlington (MD)                       125 Salford (MD)                         
40  Denbighshire (WPA)                    126 Sandwell (MD)                          
41  Derby (UD)                            127 Sefton (MD)                          
42  Doncaster (MD)                        128 Sheffield (MD)                        
43  Dudley (MD)                           129 Shetland Islands (SLGA)                
44  Dumfries and Galloway (SLGA)          130 Slough (BUD)                            
45  Ealing (LB)                           131 Solihull (MD)                        
46  East Ayrshire (SLGA)                  132 South Ayrshire (SLGA)                  
47  East Dunbartonshire (SLGA)            133 South Gloucestershire (UD)            
48  East Lothian (SLGA)                   134 South Lanarkshire (SLGA)                 
49  East Renfrewshire (SLGA)              135 South Tyneside (MD)                  
50  East Riding of Yorkshire (UD)         136 Southampton (UD)                     
51  Enfield (LB)                          137 Southend-on-Sea (UD)                 
52  Falkirk (SLGA)                        138 Southwark (LB)                        
53  Fife (SLGA)                           139 St Helens (MD)                       
54  Flintshire (WPA)                      140 Stirling (SLGA)                        
55  Gateshead (MD)                        141 Stockport (MD)                        
56  Greenwich (LB)                        142 Stockton-on-Tees (UD)                
57  Gwynedd (WPA)                         143 Stoke-on-Trent (UD)                  
58  Hackney (LB)                          144 Sunderland (MD)                       
59  Halton (UD)                           145 Sutton (LB)                           
60  Hammersmith and Fulham (LB)           146 Swansea (WPA)                         
61  Haringey (LB)                         147 Swindon (UD)                         
62  Harrow (LB)                           148 Tameside (MD)                        
63  Hartlepool (UD)                       149 Telford and Wrekin (UD)               
64  Havering (LB)                         150 The Scottish Borders (SLGA)            
65  Highland (SLGA)                       151 The Vale of Glamorgan (WPA)           
66  Hillingdon (LB)                       152 Thurrock (UD)                        
67  Hounslow (LB)                         153 Torbay (UD)                          
68  Inner Temple (IC)                     154 Torfaen (WPA)                         
69  Inverclyde (SLGA)                     155 Tower Hamlets (LB)                   
70  Isle of Anglesey (WPA)                156 Trafford (MD)                         
71  Isle of Wight (UC)                    157 Wakefield (MD)                        
72  Isles of Scilly (IS)                  158 Walsall (MD)                         
73  Islington (LB)                        159 Waltham Forest (LB)                       
74  Kensington and Chelsea (LB)           160 Wandsworth (LB)                           
75  Kingston upon Hull (UD)               161 Warrington (UD)                          
76  Kingston Upon Thames (LB)             162 West Berkshire (BUD)                  
77  Kirklees (MD)                         163 West Dunbartonshire (SLGA)            
78  Knowsley (MD)                         164 West Lothian (SLGA)                    
79  Lambeth (LB)                          165 Westminster (LB)                     
80  Leeds (MD)                            166 Wigan (MD)                           
81  Leicester (UD)                        167 Windsor and Maidenhead (BUD)           
82  Lewisham (LB)                         168 Wirral (MD)                          
83  Liverpool (MD)                        169 Wokingham (BUD)                       
84  Luton (UD)                            170 Wolverhampton (MD)                   
85  Manchester (MD)                       171 Wrexham (WPA)                         
86  Medway (UD)                           172 York (UD)  
173 Cornwall (UC)                         178 Central Bedfordshire (UD)
174 County Durham (UC)                    179 Bedford (UD)
175 Northumberland (UC)                   180 Cheshire East (UD)
176 Shropshire (UC)                       181 Cheshire West and Chester (UD)
177 Wiltshire (UC)